Datanow provides clear, concise security consultations: 
End-to-end protection analysis
Internal and external procedure evaluation
Infrastructure weakness checks (including intra-server protection)
Data-at-rest / Data-in-transit protection (PCI DSS, etc.)
Offsite versus onsite encrypted data archival options
Datanow helps prevent:
Losses at all levels of your organization
Social engineering attacks
Contractor breaches
Personal account incidents
REMEMBER: THOSE CLOSEST TO YOU ARE THE FIRST TO AFFECT YOU
Datanow minimizes Compromised Gatekeeper Exposure (CGE) via:
     loan originators and brokers,
     credit card companies,
     tax and accounting firms,
     lawyers, trustees, etc.
Datanow can practically eliminate your undetected and unreported incidents.
DATANOW IS VENDOR NEUTRAL AND WILL TELL YOU WHERE THE PROBLEMS ARE REGARDLESS OF THE SYSTEMS YOU ARE USING…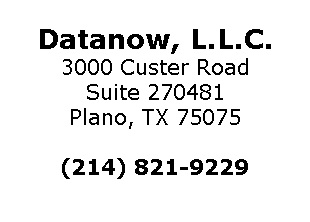 CONTACT