DATANOW strategically applies analytics to your time, money, resources, people, and processes.
WE HELP YOU FIGURE OUT: 
Who or what is wasting your time?
Who or what is wasting your money?
Who or what is wasting your resources?
Which people are productive (and at what level)?
Which processes can be improved to make my organization more efficient?
Where are opportunities being lost because of all of the above?
We help you answer these questions and more.
The remodeling analogy:
You want to remodel your house.
You start hunting for building contractors, talking with architects, and asking around about interior decorators.
The architect wants to draft a mcmansion.
The contractor wants to move walls and open up the place.
The interior designer wants to gut everything.
What is necessary?
What is superfluous?
Who is going to control the chaos?
A project manager who has the experience and knowledge on how to proceed.
The project manager brings you a budget for what you request, then you approve or deny the budget.
A project manager walks you through the maze, avoiding pitfalls as you go.
Datanow helps you maximize your opportunity.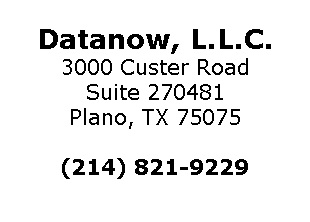 CONTACT