INTEGRATIONS
WHEN IT COMES TO TECH, MOST COMPANIES DO NOT KNOW HOW FAR BEHIND THEY ARE.
THEY DO NOT KNOW WHAT INNOVATIONS ARE OUT THERE TO HELP THEM GET AHEAD OF THE COMPETITION.
Datanow can help you gain a technology competitive edge.
Datanow specializes in connecting systems and people together in innovative ways.
Startups and "young" companies are not the only ones who can innovate.
Datanow can improve your business logic and processes so your organization can be lean and mean again.
We focus on stable, established interoperability standards to ensure maximum reliability.
Coherent, actionable plans tailored to the unique needs of your business via dedicated analysts and specialists.
A fiduciary-like approach – – more expensive up front, but no agenda from a typical consultant – – we bring the experience, you bring the budget.
Systems integration is the primary focus of Datanow.
We remove business technology roadblocks and / or tell you how to get around them.  If you have data you need protected, we protect it to the hilt.  If you need to send and to receive data from outside vendors and data sources, we set that piece of the system interoperability up securely.
If you have an innovative process that you want to implement, Datanow will help you bring it to reality.
Sometimes bringing auditing and validation to your current processes will bring fresh insights into your TRUE business operations model – – let Datanow help you start working smarter.
NO NEED TO WORRY, WAIT, or WONDER ANY MORE…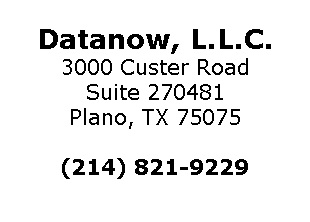 [maxbutton id="14″ url="https://www.datanowllc.com/staging/index.php/contact/" ]